Resource Center
The Chapman Group's resource center contains all the materials we have written, published, and presented, which have grouped. Visit the Resource Center»
May 20, 2013
Best practices for strategic account managers within supplier organizations on how to optimize their impact and achieve a higher degree of relevancy to their strategic customers.
Download
May 20, 2013
For over 25 years, The Chapman Group has been optimizing strategic account management program performance by institutionalizing SAM best practices, processes, methodologies, measurements and metrics. The Chapman Group's metric-based SAM approach integrates the art with the science of strategic account management and enables our clients to grow accounts by becoming more knowledgeable, efficient, and effective. [...]
Download
May 20, 2013
Dennis Chapman, a SAMA practitioner and respected sales thought leader shares insight from his personal experience working with clients and his expertise on maximizing the relationship between suppliers and their strategic customers. In this video he discusses the fundamentals of cultivating commitment and loyalty to build stronger customer-supplier relationships in strategic account management.
Download
Do you have a sales and/or account management challenge? Are you having trouble finding what you are looking for on our website? Contact our team of experts and we would be happy to help.
Get in touch with us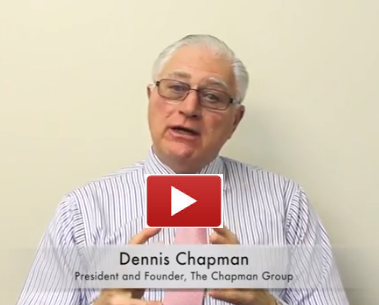 A message from Dennis Chapman Founder/Ceo of The Chapman Group.
Why work with The Chapman Group?
Find out why working with the Chapman Group can help your organization
25 Years Experience

25 Year of Sales and Account Management Experience. Learn more

Metric-based Solutions

Our holistic "metric-based" solutions are based on the principle if you can't measure it, you can't manage it. Learn more

SAMA Provider and Member

A member of the Strategic Account Management Association's (SAMA) Board of Directors and a certified provider within their Certified Strategic Account Manager (CSAM) Program. Learn more