Resource Center
The Chapman Group's resource center contains all the materials we have written, published, and presented, which have grouped. Visit the Resource Center»
March 31, 2014
At the foundation of successful strategic account management organizations is a solid, predictive, metric based account segmentation model that determines exactly who is and who is not a strategic account. The best organizations run their account base through this type of segmentation model on an annual basis to re-determine their list of strategic accounts (things […]
Download
March 21, 2014
March 20, 2014 – Download the presentation given by Dennis Chapman, President and CEO of The Chapman Group, that discusses how to measure and create loyalty based relationship that results in significant financial gains.
Download
February 27, 2014
This webinar speaks to a recognized approach, Net Promoter Score / NPS®, and how an organization who is utilizing this methodology can also consider advancing their customer experience measurement program forward through additional measurements and metrics. This webinar makes participants think, re-evaluate and re-energize initiatives around knowing and measuring their customer's experiences.
Download
Do you have a sales and/or account management challenge? Are you having trouble finding what you are looking for on our website? Contact our team of experts and we would be happy to help.
Get in touch with us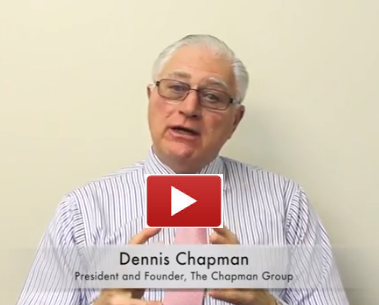 A message from Dennis Chapman Founder/Ceo of The Chapman Group.
Why work with The Chapman Group?
Find out why working with the Chapman Group can help your organization
25 Years Experience

25 Year of Sales and Account Management Experience. Learn more

Metric-based Solutions

Our holistic "metric-based" solutions are based on the principle if you can't measure it, you can't manage it. Learn more

SAMA Provider and Member

A member of the Strategic Account Management Association's (SAMA) Board of Directors and a certified provider within their Certified Strategic Account Manager (CSAM) Program. Learn more