The Chapman Group partners with organizations that share our vision of improving and enhancing sales and account management effectiveness in B2B organizations. Strategic Partners of The Chapman Group include:
Association of Strategic Alliance Professionals (ASAP)
Founded in 1998, the Association of Strategic Alliance Professionals (ASAP) is a non-profit global professional membership organization with over 2,500 members representing over 35 countries across the globe.
ASAP is the community of choice for alliance, collaboration, and partnering professionals because of the tools and resources, education and professional development, and the community for networking offered to its members.
Membership represents a number of industries including Hi-Tech, BioPharma, Finance, Insurance, Retail, and Consumer Service to name a few. ASAP is governed by an Executive Management Board and Advisory Board which is comprised of Sr. Executives from Global Member organizations.
The Chapman Group is proud to be part of the Education Provider Partner Program (EPPP) with ASAP.
For more information on ASAP, including membership, please visit www.strategic-alliances.org.
Revegy
The Chapman Group, a management consulting firm based in Columbia, Md., and Revegy, a sales effectiveness platform developer based in Atlanta, have recently entered into a strategic partnership to help organizations optimize sales planning and deal execution. This partnership aims to merge TCG's world-class account management methodology and metrics with Revegy's industry-leading sales effectiveness platform to provide an innovative, results-driven approach to account planning and strategic account management. With this partnership, companies will be equipped to exponentially grow revenues, expand reach and deepen relationships in their key accounts.
TCG clients will now have access to powerful technology that aligns directly with the unique way they sell and provides intuitive, visual maps that reveal hidden opportunities for increased penetration and growth across an enterprise.
For more information about The Chapman Group and Revegy relationship, please contact Denny Chapman at dennychapman@chapmanhq.com.
Strategic Account Management Association (SAMA)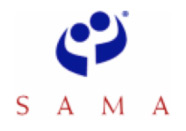 Founded in 1964 and with over 2,000 current members, the Strategic Account Management Association (SAMA) attracts the strategic customer management profession's most influential decision-makers. Over the past 39 years, the association has earned the reputation of being the SAM profession's knowledge leader, providing members with the high quality resources, training and networking opportunities needed to succeed.
The Strategic Account Management Association is a non-profit organization devoted to developing and promoting the concept of customer-supplier collaboration. SAMA is dedicated to the professional development of the individuals involved in the process of managing national, global and strategic customer relationships, and to enabling firms to create greater customer value and achieve competitive advantage accordingly. For more information, please visit www.StrategicAccounts.org.
If you are interested in becoming a Strategic Partner of The Chapman Group, please contact us.